I figure it out what makes me keep on running in my life: the need to follow a  role model, to stand by his  principles, to admire, to aspire to it, to identify myself to it.
And during the discussion with Marco Kind, the Romanian Vodafone's marketing director, I had the feeling that in front of me is such a role  model, a man with an iron-will, extremely disciplined and with  an unique way to navigate through life.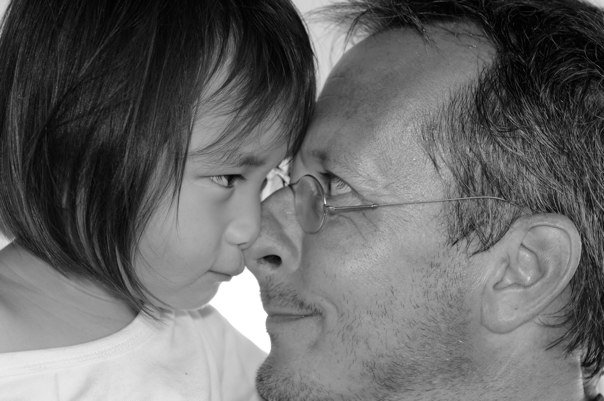 Marco Kind is a Dutchman and the first question I asked him  was regarding the differences between the Romanian bike infrastructure and the Netherlands road bikes.
He started laughing  and told me that in Netherlands there are 20 million bicycles and 16 million inhabitants.
"If you walk in Amsterdam you will see more bicycles around you – also physically – than you will see people", told me Marco.
I knew what is all about in Netherlands speaking of bikes, conditions and infrastructure. I red many web pages dedicated to this subject and saw many videos on YouTube, but is different when you here it  from of a Dutchman :).
"There's no public road without dedicated bicycle path and that's not an yellow line on the main road. No, it's literally a separate path", Marco said.
I think he was very polite and find us an excuse: Romania is an emerging country. But what he didn't know is that Romania's an emerging country since 20 years ago and will be an emerging country 20 years from now on.
I asked him to grade the Romanian bike infrastructure on a scale from 1 to 10.
"Is certainly below five", told me.
I didn't expect any different, but it meant something coming from a man who was practically born around  bicycles and who  runs thousands of kilometers on  his bike back in Netherlands, not from the need to relax himself, but from  purely and simply need to  have an alternative transport solution.
Marco found us another excuse, a more rational one I think: the climate. In Netherlands you can use the bike all year round, because the temperature is between 20-25 grades in July and August and 0-10 grades in December and January.
"In Netherlands, exception winter days witch last 6 days :), bicycling is a year round activity. Here in winter time is limited and in the summer is also very limited", said Marco.

Biking in Bucharest
Marco is riding his bike in Bucharest for transportation, in the spring and in the summer, twice a week, when the way to job.
"I park my bike downstairs and I take a shower. I have my biking gear on. I keep a suit here, I just refresh".
Marco is also biking through Băneasa forest. He lives around it and he's doing the  training at a very early hour.
Why he likes Romania
"In the weekends you have paradise here for mountain biking. You have everything here: you have hills, you have mountains, and you have great mountain roads. You need to find your way. It's a bit of discovery because the sign posts are quite limited here. I think you have one of the best infrastructures in Europe".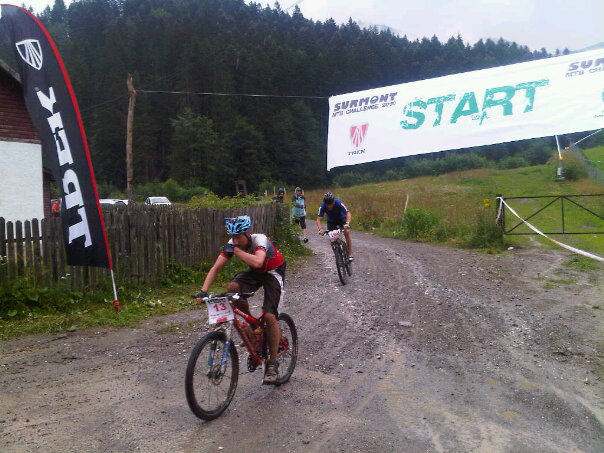 Let's not forget it; he speaks of the roads for mountain biking, off roads, that does not require a particular attention from our public authorities.  Those kind of roads are natural, appeared from nowhere. There are wild roads.
"I can drive to my car in Sinaia –  1 and a half hour, take my bike and spend the weekend up in the mountains,  Bucegi, Bran, Moeciu, Craiu, come back.  You have paradise here".
Prima Evadare
For those ones who don't know, Prima Evadare is the biggest mountain bike contest in Romania. It consists 55 km, but the fame is not from his length, but from his popularity among the Romanian bikers. Last year 1400 bikers took the start and 800 of them finished the race.  Marco Kind was on fifth place on his category.
"This  year I made a very strong commitment to myself and is that some around  8 marathons  in this summer I'm going to hit the  podium.  If I'll do it on the 8 of May it release for the rest of the season".
Other competitions Marco intend to participate: Banat, Mediaş Marathon, Cluj, and Sibiu – Geiger.
Kind the bike marathoner
I asked him if he participated in races back in Netherlands. Yes, he did it, especially on the long marathons, of at least 7 hours.
"That's my specialty", told me.
He and his wife went through the Alps on the bikes in 7 days.
I was stunned specially when I found out that his wife, Jeanien Kind-Eertink, was a pro and she won many races.
"Actually my wife is better than I am. My wife did in her peak times, she regularly won marathons. She had a top 10 finish into world cup in Italia 3 years ago".
Marco's wife finished second place in Prima Evadare 2010.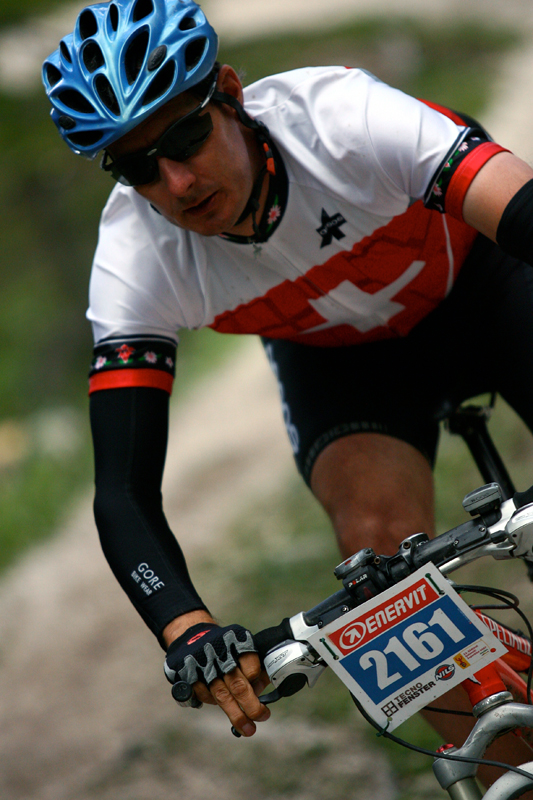 Back to Marco. He told me some of the races he participated: Amstel Gold Race, 250 km, 9 hours.
"A very exhausting race because it's up and down, up and down.  It's no pieces flat. You climb 24 hills".
Other races Marco finished: Bastogne-Liege or Tour de Flandre, both in Belgium, with over 220 km.
How he keeps himself in shape
Yes, fifth place in Prima Evadare it's not that bad for a 42 years old guy. "How do you keep yourself in shape", I asked him.
"I'm disciplined, because for me I can only make time to dedicate to my passion, with the amount of hours I put into my job".
Marco has a very tight training program.
"Right know  I'm on a schedule  which is on Monday evening I ride at home on  my  indoor bicycle – 2 hours –  very small training at a low heart beat, because  we still in the early seasons", told me.
"On Tuesday evening I do two hours of spinning. On Friday morning I run. It's a bit difficult know so I'm doing it indoors. On Saturday and Sunday I do life athletics I do a bit of weights in the gym. So that's my program, I'm on a 7 hours schedule know, which I will do until February. Then I go to 10 and ultimately I need to do 15 hours per week. That will keep me fit and ready for the marathons".
Marcos is running approximatively  8000 km per year on his bike.

10 bikes in the house
"I have 1, 2, 3, 4 bikes. My wife has 1,2,3,4. Our daughter has two bikes. Ten bikes in the house for three people".
"If you see us going in a holiday you see four bikes on a top of the car".
I was very curious to find out the brands that Marco uses. There is no brand.  He uses only specialized bikes. The value?
"…you know what a good bike cost, it's a specialized epic. It's not cheap, it's a performance bike".
The maintenance of the bikes plus the equipment is costing Marco around 500 Euros per year.
We have very good quality material because we ride a lot and our bikes suffer a lot.
Marco is doing most of the maintenance.
The diet
"You're touching a very delicate topic. I'm 1,78 m height, I'm 64 kg, full of muscle, believe me".
"I'm very low on fat in my foot.  I eat a lot of rice, a lot of vegetables, very low on meat. If I eat meat two times a week that's a lot.  I eat white meat, chicken, Turkish and we eat quite a lot fish, but half of the week vegetarian".
Marco is an early rising at 07 AM and he starts the day with a very healthy breakfast, yogurt, muesli, fruits.
For lunch, off the season he's taking salads and in high season he switches to pasta
"If I'm late at home I avoid strong nutrition dinners because there's nothing worst than having dinner at 21.00 and sleeping at 22.00. That's horrible for the body".
"Well, this man is either a saint, either a fanatic", I was thinking to myself. As if he heard my thoughts Marco told me:
"I'm not perfect…I don't live like a monk, I do drink, wine, in summer an I take a beer. If my friends are here I also get drunk and spend time until 11 in the evening".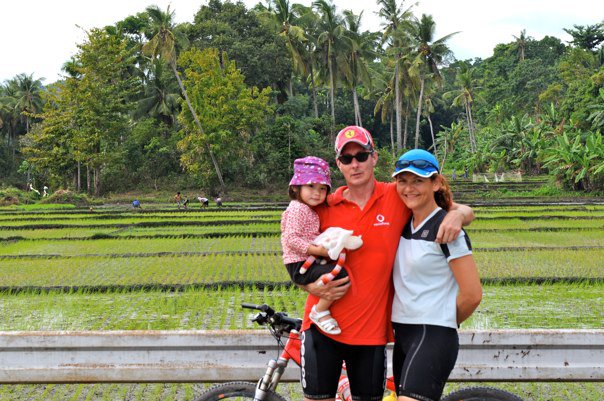 Liquid is the most important part for me, said. "I drink at least 2 liters of water per day, even now. In summer I increase to 3".
After the training sessions Marco always eat bananas, to fast recover his body.
Biking in Asia
"In summer time we spend a lot of time in Asia biking, my wife and I", Marco said.
"Last year we went on Philippines with our daughter. We spend two and a half weeks on the bikes. We've been to China, Vietnam, Indonesia, and Philippines".
That's more a way of living, than spending the holiday. Nice life Marco!
[nggallery id=52]
Comentarii