Încerc din nou un regim alimentar de tip keto, doar că de data asta nu voi fi radical, ci voi încerca să mă adaptez și la ce se gătește în familie.
Spre exemplu, Ioana a gătit astăzi ardei umpluți, iar carnea tocată a amestecat-o și cu un pic de orez. N-o să fac mare caz din asta, voi mânca și eu ardei.
Dar vreau să scap în primul rând de marele meu dușman, PÂINEA. Eu sunt ca rechinul care a gustat o picătură de sânge și nu se mai poate opri din măcel mai apoi, dacă pun mâna pe pâine nu-i mai dau drumul.
Firește, pâinea nu va fi singurul aliment la care voi renunța în această perioadă keto – intenționez să mă țin de ea cel puțin o lună.
Dacă nu știi care-i treaba cu dieta keto, poți să arunci o privire aici.
Cea mai mare provocare nu va fi urmarea dietei, ci adaptarea ei și la regimul meu de viață, în special la activitățile sportive. Spre exemplu, în această seară am antrenament de alergare la Arena Națională, unde voi alerga niște intervale, ceea ce înseamnă că voi avea nevoie de energie, de explozie, chestii de care nu prea ai parte când ești în keto.
Am intrat repede în această dietă, după un post negru de 32 de ore – mâncasem niște plăcinte cu vișine pe la 12 noaptea și aveam remușcări. Am sărit peste micul dejun, pe urmă și peste prânz și dacă tot ajunsesem până aici am sărit și peste cină și peste următorul mic dejun.
Mănânc deja de două zile alimente keto, iată care au fost mesele mele pe ziua de astăzi:
Micul dejun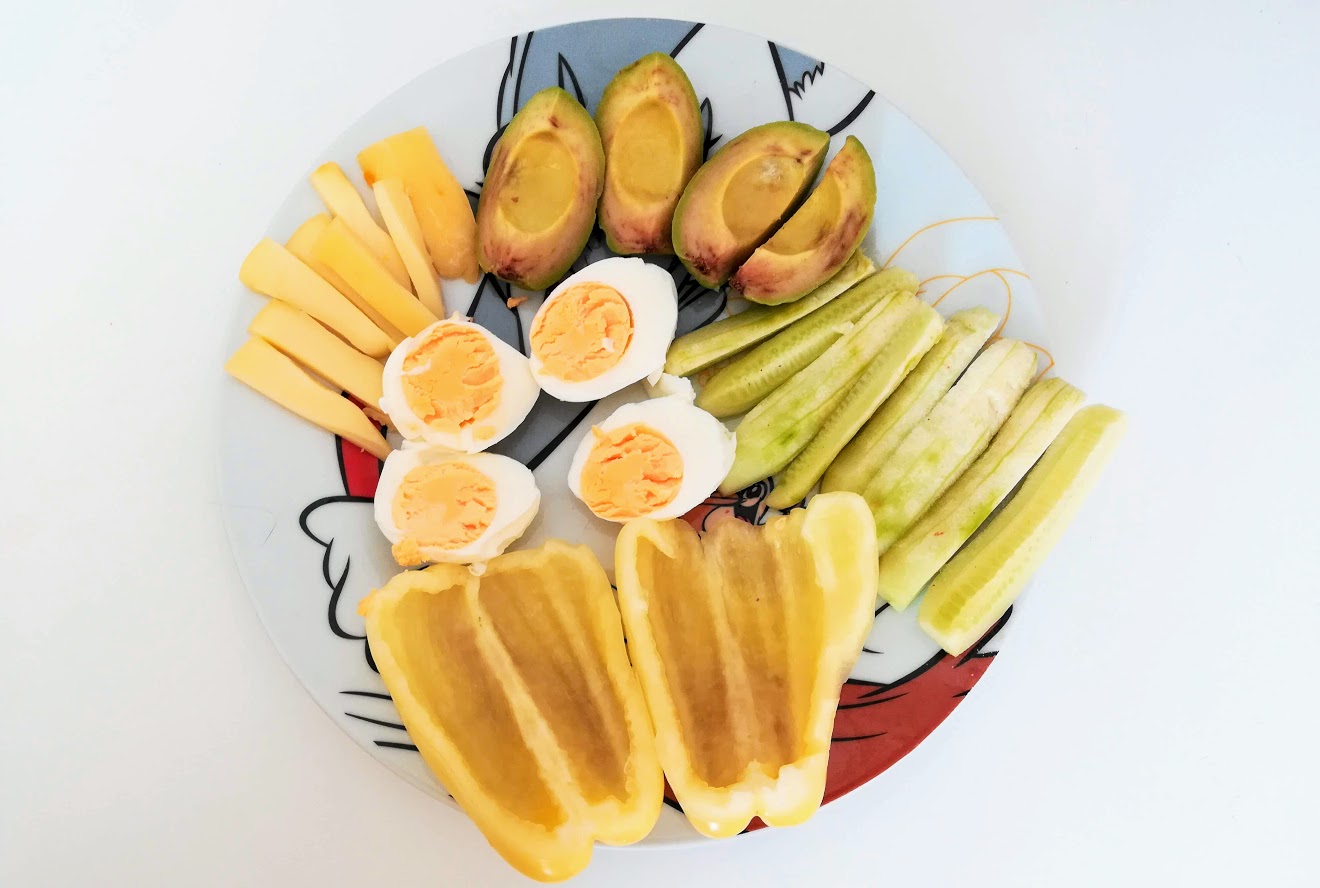 În această farfurie există așa: un ardei gras, doi castraveți micuți, două avocado, două ouă fierte și câteva bucățele de cașcaval.
Prânzul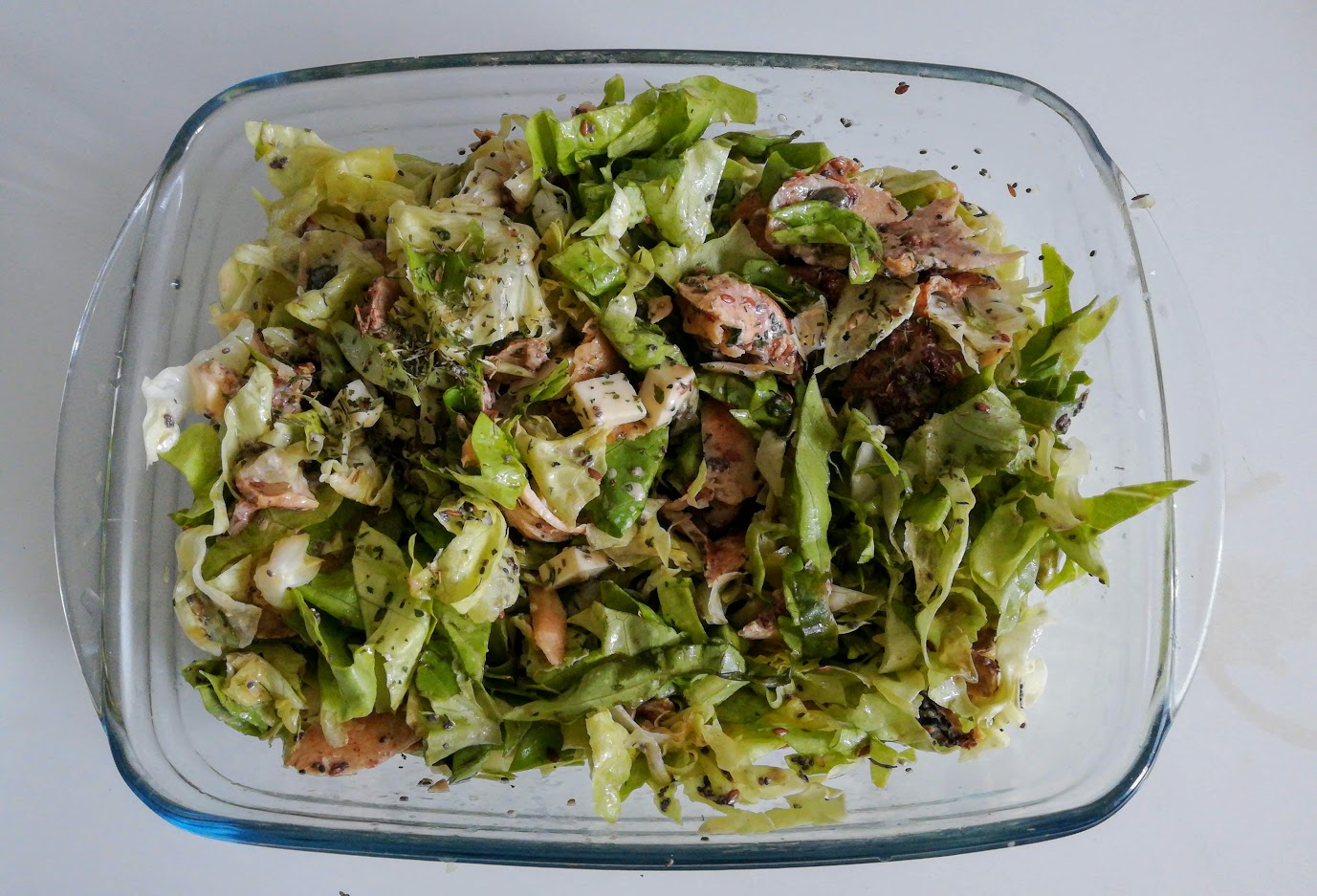 Aici am adaptat puțin. Am folosit carnea de la o shaorma :), împreună cu o salata verde tăiată mărunt, câteva semințe amestecate din mai multe feluri, câteva semința chia, niște ulei de măsline și o jumătate de lămâie stoarsă peste. Ah, am adăugat și câteva cubulețe de mozzarella.
Mi s-a părut un prânz mai mult decât sățios și foarte gustos. Să vedem dacă o să am însă suficientă energie la alergare :).
Dacă există interes, mai postez feluri de mâncare, pe măsură ce le descopăr și eu. În principiu, nu ai voie carbohidrați (ies din discuție pastele, pâinea, orezul), ai voie carne grasă, legume verzi și fructe de pădure.
Alimente pe care trebuie să le eviți
Sugary foods: Soda, fruit juice, smoothies, cake, ice cream, candy, etc.
Grains or starches: Wheat-based products, rice, pasta, cereal, etc.
Fruit: All fruit, except small portions of berries like strawberries.
Beans or legumes: Peas, kidney beans, lentils, chickpeas, etc.
Root vegetables and tubers: Potatoes, sweet potatoes, carrots, parsnips, etc.
Low-fat or diet products: These are highly processed and often high in carbs.
Some condiments or sauces: These often contain sugar and unhealthy fat.
Unhealthy fats: Limit your intake of processed vegetable oils, mayonnaise, etc.
Alcohol: Due to their carb content, many alcoholic beverages can throw you out of ketosis.
Sugar-free diet foods: These are often high in sugar alcohols, which can affect ketone levels in some cases. These foods also tend to be highly processed.
Alimente recomandate
Meat: Red meat, steak, ham, sausage, bacon, chicken and turkey.
Fatty fish: Such as salmon, trout, tuna and mackerel.
Eggs: Look for pastured or omega-3 whole eggs.
Butter and cream: Look for grass-fed when possible.
Cheese: Unprocessed cheese (cheddar, goat, cream, blue or mozzarella).
Nuts and seeds: Almonds, walnuts, flax seeds, pumpkin seeds, chia seeds, etc.
Healthy oils: Primarily extra virgin olive oil, coconut oil and avocado oil.
Avocados: Whole avocados or freshly made guacamole.
Low-carb veggies: Most green veggies, tomatoes, onions, peppers, etc.
Condiments: You can use salt, pepper and various healthy herbs and spices.
Sursa: healthline.com.
Comentarii